Yellowfin bream have silver to bronze bodies and the lower fins are yellow to white.
Yellowfin bream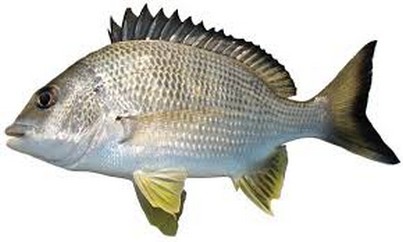 Yellowfin bream are well dispersed along our coast line from Townsville to Victoria and they are predominantly found in estuary systems and in close coastal waters including harbours and rocky reefs and coastal saline lakes. The size of yellowfin bream you find in these locations very much relates to their breeding cycle.
Spawning occurs during winter in sandy beach areas close to estuary systems and the tiny fry (less than 1cm) quickly move up into the estuary systems that will be their home until they reach maturity at about 5 years and reach around 22cm in length. Maximum size is around 50cm. Once mature all male fish spawn.
The habitats that juvenile yellowfin bream and mature yellowfin bream share in estuary systems includes natural environments made up of weed beds, the edges of mangrove banks, inundated mangroves, overhanging trees and drowned trees and vegetation, sandy and muddy areas and rocky reefs, shore lines and rock bars and also man made environments including rock walls, bridge pylons, jetties, pontoons and bridges and under moored boats etc.
After spawning not all mature fish return to estuaries and some disperse into close coastal waters including harbours and coastal rock bars and saline lakes, with the bigger fish in particular ranging much further than they did as juveniles, where they favour the same types of habitat they did as juveniles but with a greater emphasis on rocky shores and rocky reefs and rock walls. Older fish prefer deeper water.
Best times
The phases of the moon influences the occurrence of bite windows.
The best time to fish for yellowfin bream, and most fish, is the first 7 days after the new moon.
As for all fishing the time just before and after sunset and dawn can be a significant time for a bite window.
Other considerations
Minimum catch size for yellowfin bream is 25cm.
Generally yellowfin bream are most active when the tide is rising and on the ebb of the rising tide. Keep in mind however that once the tide inundates mangroves yellowfin bream have a tendency of moving too deep into the root systems to be able to be targeted on fly. Keep in mind that when the tide changes yellowfin bream have to retreat from the mangroves and for the early part of the falling tide become good targets on fly.
Bream snack throughout the day with bite windows generally triggered when there are concentrations of food and in the hottest part of the day tend to forage deeper and in the cooler part of the days around dusk and down tend to forage more widely depth and terrain wise.
In the hottest part of summer yellowfin bream can be particularly active at night when the water is coolest and not only forage over a greater range of depths and but also forage right up into shallower water.
Juvenile yellowfin bream tend to be relatively resident for long times in the same area for long periods and only move on if conditions become unfavourable.
My fifth blog will be about flies for yellowfin bream.