The following 16 fish species are the only species eligible for weigh-in at the Boyne Tannum HookUp Fishing Competition:
| Non-Live Species | Live Species |
| --- | --- |
| Red Emperor | Live Whiting |
| Snapper | Live Fingermark (Golden Snapper) |
| Red Throat Emperor (Sweetlip) | Live Mangrove Jack |
| Spanish Mackerel | Live Yellowfin Bream or Live Pikey Bream |
| Cobia (Black Kingfish) | *Live Flathead |
| Coral Trout | *Live Grunter |
| Largemouth Nannygai | *Live Barramundi |
| Black Jewfish | *Live Salmon (Blue Threadfin & King Threadfin) |
*Indicates a Catch & Release category
Click here to learn more about the Fishing Competition Categories.
All fish species are as per the Queensland Government Department of Agriculture and Fisheries website fish species guide www.daf.qld.gov.au.
LIVE SPECIES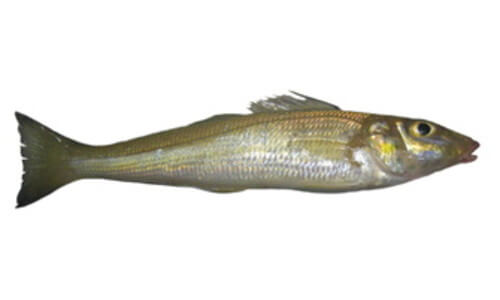 Live Whiting
Description:
• Creamy yellow upper part; silvery on lower part
• No spots or blotches on body
• Cheeks have conspicuous yellow blotch
• First dorsal spine is white at base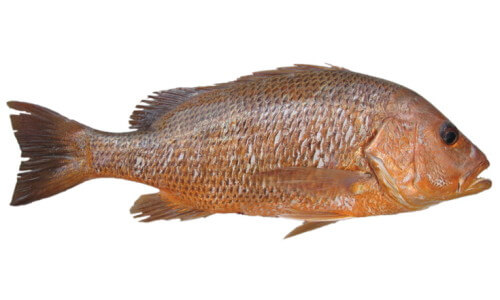 Live Fingermark Golden Snapper
Description:
Body has bronze to silvery sheen, shading to silvery white on belly and underside of head
Back has round black spot/saddle that is larger than the eye
Back has round black spot/saddle that is larger than the eye
Scales have reddish-brown spot often in centre of each scales, giving an overall appearance of horizontal lines on the body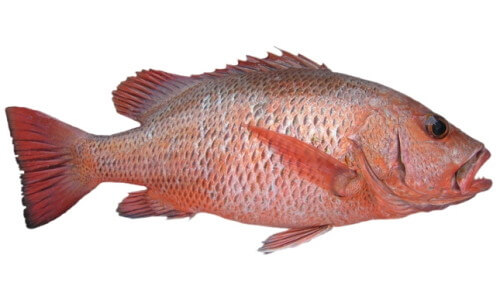 Live Mangrove Jack
Description:
Back and sides are greenish-brown to reddish
Long snout
Belly is slightly red to bronze with white edges on scales
Sides of juveniles have a series of about eight whitish bars
One or two blue lines on the cheeks of juveniles
Long canine teeth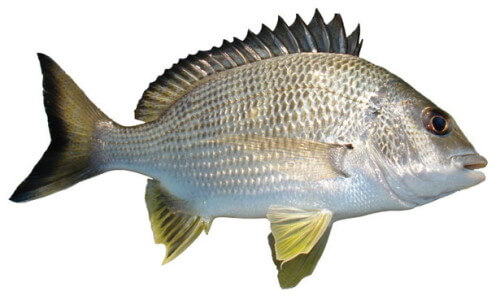 Live Yellowfin Bream
Description:
Silvery bronze body
Pelvic, anal and ventral part of caudal fins (particularly the spines and soft rays) are yellowish and whitish, sometimes with black areas
Lateral line with dark blotch at origin
Pectoral fins have a dark spot at upper base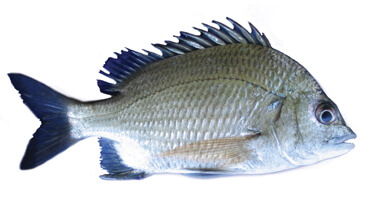 Live Pikey Bream
Description:
Grey sides and fins
Dorsal and anal fins have very stout spines
Usually 20-30cm in length, maximum size around 60cm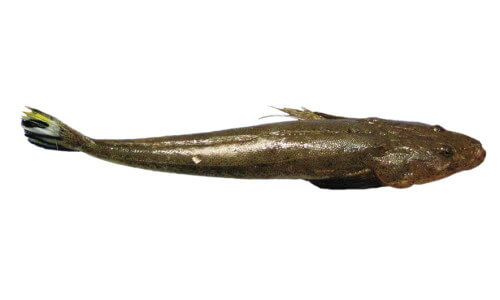 Live Flathead (Catch & Release)
Description:
• The top of the head and body is whitish and covered with small brown flecks; may have several indistinct dark bands across back
• Dorsal, pectoral and pelvic fins have small brown spots on rays
• The caudal fin has two or three horizontal dark bars, a prominent yellow blotch near the middle fin, whitish areas in upper lobe and lower margin

Live Grunter (Catch & Release)
Description:
Adults have golden-green back, silvery belly with traces of brown vertical bars present only when alive
Head is slightly convex
Dorsal fins are spinous with spots indistinct or absent and a deep notch between the first and second
Juveniles have brilliant silvery green back, golden silver sides, silvery white belly and 12 more faint vertical bars
Lower tip of the caudal fin on juveniles is white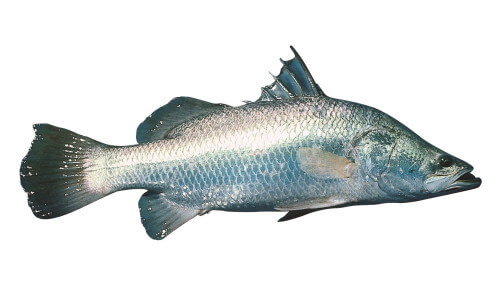 Live Barramundi (Catch & Release)
Description:
Silver, olive-grey or grey-blue black
Brown to golden eyes with bright red reflective glow
No markings on fins
Juveniles are brown to greyish brown with three white stripes on the head and scattered white patches on the sides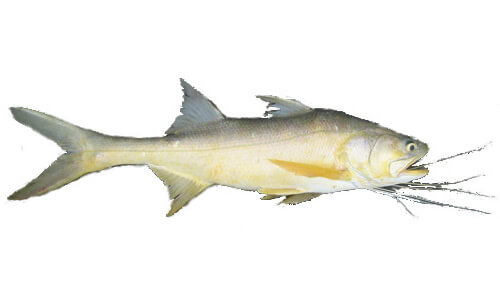 Salmon King Threadfin (Catch & Release)
Description:
Bluish-silver back, whitish belly (during some seasons the belly surface is flushed with yellow)
Dorsal, anal and caudal fins are blackish
Pectoral fins, pelvic fins and pectoral filaments are whitish and yellow.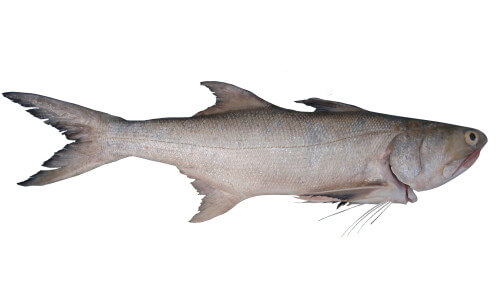 Salmon Blue Threadfin (Catch & Release)
Description:
Back and head are silvery green or silvery blue, and silvery white or yellowish white in older fish
Fins are grey and may have yellow or orange tinge
4 pectoral filaments are white or creamy
NON-LIVE SPECIES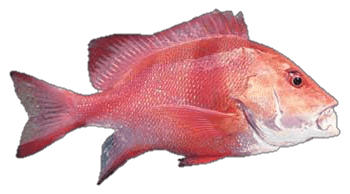 Red Emperor
Description:
Juveniles and young adults have broad dark red bands which cover the point from top of spiny dorsal fin onwards
Bars fade with age and fish become pink-red all over
Dark edges with fine white margin may still be visible on dorsal, anal and top and bottom of tail fins
Each scale carries a white dot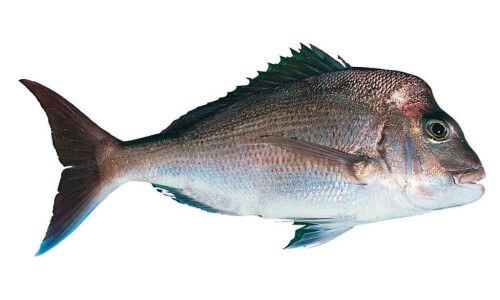 Snapper
Description:
Head and upper body are red-brown
Sides and belly are silvery
Upper sides have numerous small bright blue spots especially prominent in juveniles
Fins are red or faint red
Caudal fin has white lower margin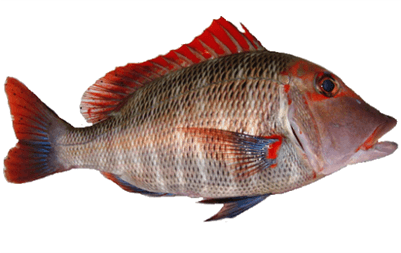 Redthroat Emperor Sweetlip
Description:
Bright red to orange coloration on spiny dorsal fin, base of pectoral fin, around eye and inside mouth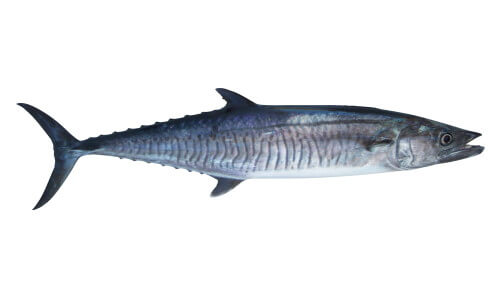 Spanish Mackerel
Description:
Numerous thin, wavy vertical bands on body (number of bars increases from as few as 20 in a 40 cm specimen, to as many as 65 in a 150 cm specimen)
Iridescent blue-grey back
Silver sides with bluish reflections; juveniles frequently spotted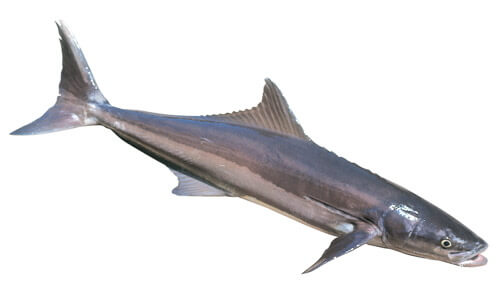 Cobia Black Kingfish
Description:
Back and sides dark brown
Two sharply defined narrow silvery bands (not as prominent in dead specimens)
Yellowish belly
First dorsal fin has seven to nine (usually right) short but strong isolated spines, not connected by a membrane

Coral Trout
Description:
Covered in a profusion of small blue dots over body and all fins except pectoral fins

Transparent pectoral fins
Distinctive blue ring around the eye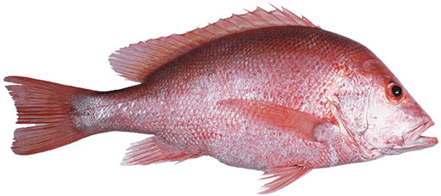 Largemouth Nannygai
Description:
Crimson all over
Dark saddle blotch becomes less distinct with age
Different from crimson snapper (small-mouth Nannygai) in having a bigger mouth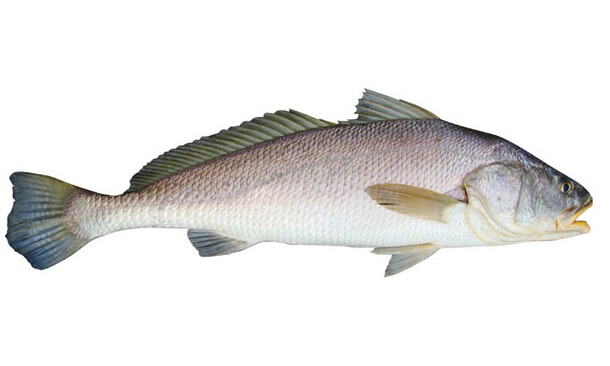 Black Jewfish
Description:
Grow to around 45kg and 1.5 metres long
Slight inward curve on forehead
Small black spots on the upper half of the body
Do not have a black spot at the base of the pectoral fins