The Gladstone Regional Councillors try on the new HookUp shirts available at this year's HookUp event on this weekend.
Gladstone Regional Council is a Red Emperor Sponsor for this year's event and were there first to try these newly designed HookUp merchandise.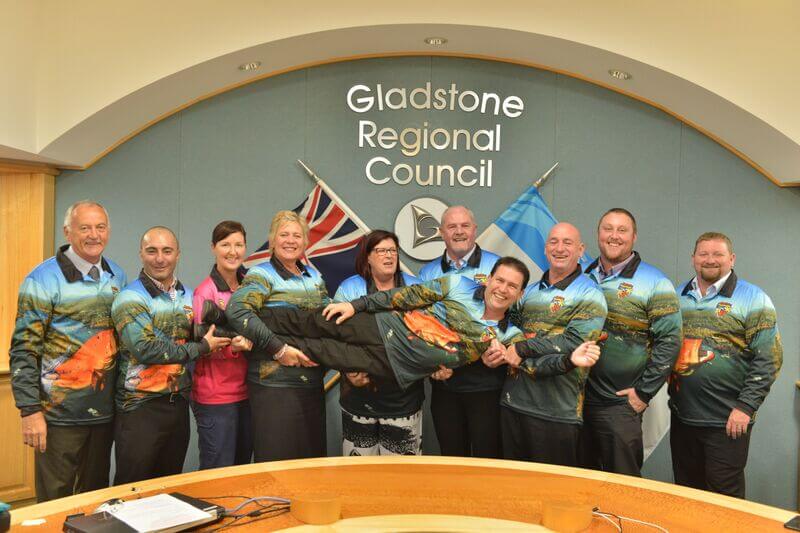 "The shirts look and feel great", said Councillor Rick Hansen. "I'm buying one, great souvenir", he said.
Jennifer McGuire, President of the Boyne Tannum HookUp Committee said, "It's a great tribute to the Boyne Tannum Rotary Club who has taken on the contract for the HookUp merchandise this year". Jennifer said, "this is part of the new community model that the HookUp committee have established. Community organisations sharing in any profits that are made from the HookUp event".
The shirts have been designed from photos of the Boyne River taken by a drone. "This shirt truly represents the local area and local people", said Sharon Mostert from the Boyne Tannum Rotary Club.
Sharon said there are two different coloured shirts available in all adult sizes and also there are great children's shirts available with a more animated print.
The shirts are available from Bray Park during the HookUp event.
Tickets for the HookUp are STILL on sale now from the HookUp website.
Senior competitors are $85 and juniors are $40, on sale until 3pm on Friday 28 April or until sold out.